​​​​​​​All About Acrylic Vitrines​​​​​​​​​​​​​​


​​​​​​​When selecting an exhibit case, vitrine material is an important consideration. Many domestically produced archival-quality exhibit cases are manufactured using acrylic as opposed to glass. ​​​​​​​Any of the acrylic types discussed will protect your objects and provide a great visitor experience. 

​​​​​​​Compared to glass, acrylic...
Is stronger and has higher impact-resistance
Lighter in weight (easier to handle and lower shipping costs!)
Shatter-resistant
Easier to fabricate (less expensive!)​​​​​​​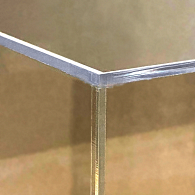 ​​​​​​​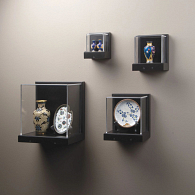 ​​​​​​​
Good Quality Vitrine:
Extruded Acrylic with Solvent Seams
​​​​​​​Avant (standard cases),Crystal Cubes, Gem, Hudson, Jewell, Keynote, League, Prestige, Rollie Mobile, Splendor​​​​​​​
THE BASICS
​​​​​​​What is extruded acrylic?
​​​​​​​​​​​​​​Extruded acrylic, or continuous feed acrylic, is made when heated liquid polymer is fed, or extruded, through a series of rollers.
What are solvent seams?
Solvent is applied to edges of the acrylic to be joined and then the two pieces are held together until the solvent evaporates.
​​​​​​​A solvent seam will make the joints of the vitrine strong and transparent, but it won't fill any air gaps between the acrylic pieces, which can cause bubbles. A professional shop should be able to minimize bubbles.
THE BENEFITS
​​​​​​​Extruded acrylic is common in a variety of applications, so it costs less
Standard and UV-filtering options available
Perfect for small to medium museum exhibit cases
Ideal for short-term use – pop-up exhibits, rotating shows and smaller collections​​​​​​​
​​​​​​​​​​​OTHER CONSIDERATIONS
​​​​​​​A short-term lifespan is typically around two years. It's the most economical choice for short-term use, but lifespan is an important consideration. You may want to factor in the cost of replacement in longer term scenarios.
  
​​​​​​​​​​​​​​
Better Quality Vitrine:
​​​​​​​Cast Acrylic with PS-30 Seams or UV-bonded Seams
​​​​​​​Metro, Sapphire, Delphi
The Basics
What is cast acrylic? 
​​​​​​​Cast acrylic is formed by pouring heated liquid polymer into a mold that creates a sheet. 
​​​​​​​It is higher clarity, more consistent thickness and has less bowing or bending.
​​​​​​​
What are PS-30 seams?
PS-30 acrylic adhesive is a two-component cement. It is mixed and then applied to the edges of the acrylic to be joined and then left to cure. ​​​​​​​The adhesive will fill any air gaps in the seam, resulting in clear, transparent, bubble-free joints
What are UV-bonded seams?
Adhesive is applied to the edges of the acrylic to be joined, then cured using concentrated UV light. The adhesive fills in air gaps, resulting in clear, transparent, bubble-free joins
The Benefits
A more time and labor-intensive process, PS-30 and UV-bonded seams combined with extensive hand finishing and polishing creates clear, bubble-free joins
​​​​​​​Available in standard and UV-filtering
Fabricated for long term use and reuse
Can be made into larger vitrines than extruded acrylic
Excellent for rotating, traveling and permanent, long-term exhibits
Life span can be 10-25+ years (with proper care and handling)
OTHER CONSIDERATIONS
​​​​​​​​​​​​​Cast acrylic vitrines are typically twice the cost of a comparable size vitrine made from extruded acrylic. That's important to consider in conjunction with use and intended lifespan.
​​​
​​​​​​​Best Vitrines:
​​​​​​​State-of-the-Art Acrylic Protection
​​​​​​​When choosing vitrine material for valuable or vulnerable objects, these specialized acrylic types afford additional protection.
These unique materials require proprietary or unique construction techniques creating flawless edges.
High-performance acrylic vitrines made with these materials extend the life of the vitrine and are excellent for rotating, traveling and permanent exhibitions.
Life span can be 10-25+ years with proper care and handling
Abrasion-Resistant UV-Filtering Acrylic
​​​​​​​
Made from extruded acrylic with an abrasion-resistant resistant coating, this durable acrylic is ideal for high traffic, traveling and permanent exhibitions. 
The abrasion-resistant coating prevents shallow scratches and dulling, providing a clear viewing experience. 
Filters 98% of damaging UV rays
Costs 30-40% more than Cast Acrylic Vitrines
​​​​​​​​​​​​​​Optium Museum Acrylic®
​​​​​​​

​​​​​​​​​​​​​​​​​​​
Made from clear, hard coat abrasion-resistant, UV-filtering extruded acrylic, this conservation-grade acrylic has something for everyone.  ​​​​​​​
Conservators love Optium for its protection and antistatic qualities. Exhibitors love it for its antireflective properties and weight that allows for easier handling. And everyone loves its abrasion-resistance for extending the life of the vitrine. 
​​​​​​​ANTIREFLECTIVE properties allow for optimal viewing with a crystal-clear view for visitors
Designed to be ANTISTATIC, Optium won't attract dust allowing the surface to remain cleaner for longer, and is excellent for use with friable media
ABRASION RESISTANCE protects from minor scratches caused by visitors, traveling or frequent cleaning
UV PROTECTION filters out 99% of damaging UV rays